Two states are so far failing to implement the new National Student Wellbeing Program (NSWP) as agreed with the Albanese government, with Queensland and South Australia having omitted key statements about religious elements from their policy documents.
While the new Project Agreement for the five-year federally funded NSWP – which replaces the former National School Chaplaincy Program (NSCP) – includes a clear statement that the program is "not a religious program", neither Queensland's nor South Australia's guidelines mention that key requirement.
In a major change to the former chaplaincy program, the new Project Agreement states that chaplains and student wellbeing officers funded under the program may be of "any faith or of no faith". But South Australia still requires chaplains to be "of any faith".
In contrast, New South Wales and Victoria have included both of these key statements in their respective guidelines.
Under the changes to the chaplaincy program announced by education minister Jason Clare last year, schools now have the choice of either appointing a secular wellbeing officer or a chaplain, with the chaplains still required to have endorsement from religious institutions.
The Project Agreement requires all states and territories to publish their own guidelines and policies on their respective education departments' websites, but Tasmania, Western Australia, the Australian Capital Territory and the Northern Territory are yet to do so.
All of the four states that have published their own guidelines – Queensland, South Australia, New South Wales and Victoria – have included strong statements that prohibit proselytising and evangelising. Also, all include the statement that chaplains must be endorsed by religious institutions, as required by the Project Agreement – effectively allowing religious organisations to decide who can work in public schools.
Under Queensland's guidelines, chaplains will still be allowed to invite children to attend religious activities such as "lunchtime prayer group" or camps outside school hours.
In contrast, the Victorian government has specifically banned chaplains from engaging in such activities. The state's guidelines say chaplains must not "conduct religious services or ceremonies or lead religious observances", or "promote external events run by religious organisations", including camps, excursions, youth conferences, and guest speaker presentations.
Table: State by state comparison. Note: Green background indicates that the Rationalist Society of Australia approves of the position and a red background indicates it disapproves of the position.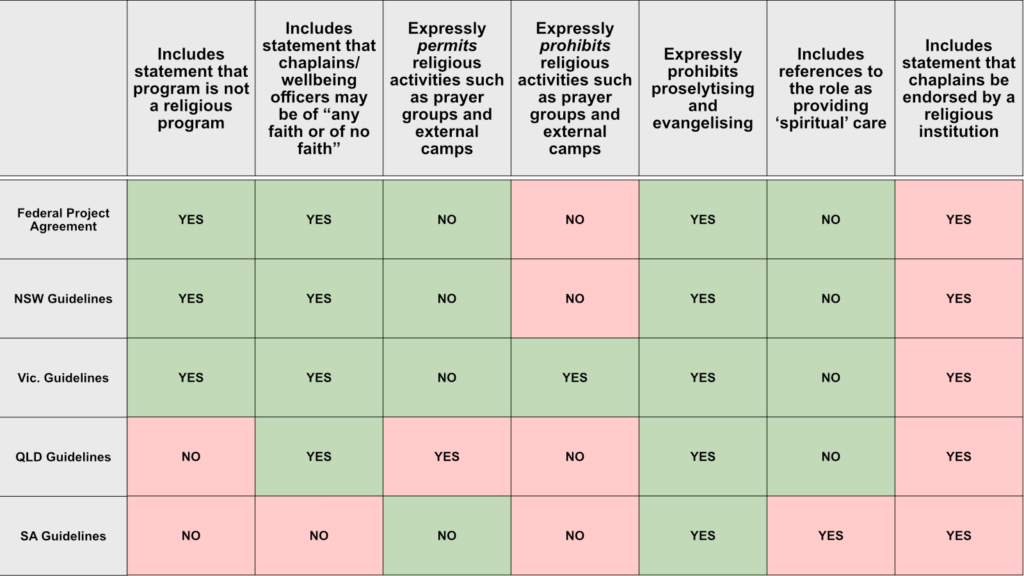 South Australia is the only state that continues to refer to the role's responsibilities as including the provision of 'spiritual' care – a description included in the former national agreement for the NSCP but omitted from the Project Agreement for the new program.
New South Wales' and Victoria's guidelines describe the NSWP as a "complementary service" to those provided by qualified specialists, and make it clear that the NSWP is "not a religious program and cannot be used for religious instruction or religious counselling".
Similarly, Queensland's guidelines say that religious instruction and religious counselling cannot be provided under the NSWP, but fail to explicitly state the program is not religious.
The previous NSCP agreement stated chaplains could be "of any faith" – effectively excluding non-religious Australians from being funded under the program and, therefore, discriminating on religious grounds. 
As the Rationalist Society of Australia has been warning, religious-based discrimination will likely continue under the new NSWP despite schools having a choice of secular workers, because of the market dominance of the long-established Christian providers that only employ people of their religion. 
This problem was foreshadowed by management consulting firm dandolopartners in its review of the NSCP last year. Its report acknowledged that schools "may not be able to access Student Wellbeing Officers through the current panel of providers".
The dandolopartners report claimed there was "insufficient evidence" to suggest that proselytising – explicitly banned under the previous NSCP – was happening, despite the report listing a number of testimonials from students that chaplains had done exactly that.
The review also noted parent and guardian concerns about chaplains using their access to children to promote off-site religious activities, such as camps.
Last year, a whistleblower told Rationale that church groups such as Hillsong and the Australian Christian Churches network had used the chaplaincy program and other outreach activities in schools to funnel children into out-of-school church activities with the aim of converting them to Christianity.

Chaplains recruiting children to attend camps hosted by chaplaincy provider Scripture Union has been a feature of the NSCP in Queensland. A number of promotional materials for the camps have been posted to the social media pages of schools, with the chaplain named as the contact point for parents and students to seek further information.
In 2021, a spring camp promoted to the school community at Coorparoo Secondary College promised children "the time of your life". Promotion material shared to the Kedron State High School in 2015 urged children to, "Let GOD change your LIFE from the inside out."
Earlier this year, the Rationalist Society of Australia reported on how, in a video published online, Scripture Union missionaries expressed hope that their "discipleship" camps would grow this year. Queensland's guidelines will make this a real possibility.
If you wish to republish this original article, please attribute to Rationale. Click here to find out more about republishing under Creative Commons.
Photo by Dollar Gill on Unsplash.